There is one sure thing and that is that you won't find Hang drum on Amazon. Not because they wouldn't want to sell them, they just can't. The main reason is that PanArt stopped making Hang years ago, so they are not available anymore. And Amazon just doesn't sell used items (they do, but rarely).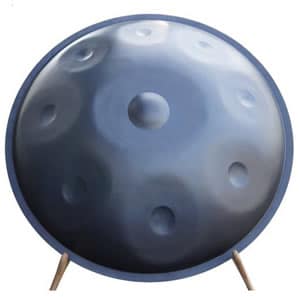 However, you can find the second best thing on Amazon. And that are handpans from other makers. Some might not all be as good as PanArt Hang, they are still decent handpans. And the best news is that they are cheaper than Hang.
This is good news for those who don't want to spend a lot of money on used Hang drum on eBay or wait for several months to get it from other handpan makers. And we all know how long their waiting lists are.
One of the brands of handpan drums I found on Amazon was Tzevaot. This brand is well known and they make good handpans.
They even claim that all of their handpans are made according to the PANArt method. I had a chance to play the Tzevaot Penta-C model a few months ago and I have to say that it was very well-tuned. Its scale was beautiful and very uplifting.
Another Tzevaot handpan model found on Amazon was an AEOLIAN scale model. This model was about 150$ cheaper than the Penta-C model.
The great thing about this brand is that you get a sturdy hard case with a handpan. That case will come in very handy if you travel a lot with your handpan.
If you are interested in how Tzevaot handpans sound, then check the video below.