Steel drums are relatively new so you might wonder why to talk about steel drum history at all.
However, there's a huge historical background behind the creation of a steel drum.
Steel drums are fun and enjoyable instruments, making extremely pleasant and relaxing sounds.
I made this neat infographic to provide you with an easily readable way to learn more about the events that led to the steel drum that we know today.
The whole timeline is surprisingly interesting, featuring some notable musicians that played their part in this.
If you like it, you can share this infographic with your friends and introduce them to the beautiful world of steel drums.
I hope you find it both useful and interesting.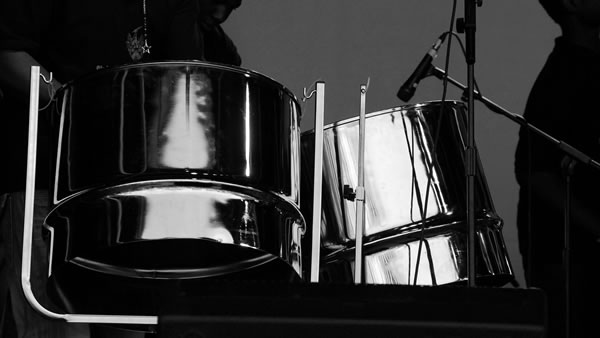 A Brief History of Steel Pan in Trinidad and Tobago
Throughout Trinidad & Tobago's turbulent history, a stream of events led to the invention of a steel pan drum.
Today, we'll revisit some of the most interesting events that formed the steel drum as we know it today.
1789
It started with French planters arriving in Trinidad in the 1780s. They brought their carnival tradition with them, enjoying dancing and music.
Soon after, their slaves formed a festival on their own, based on drum music and rhythm.
1881
Almost a century later, all forms of African percussion music became banned by the British government, deeming the carnival tradition offensive.
As an alternative to hand drums, they started using bamboo stamping tubes. When banged on the ground, they produced a very similar sound to the hand drum.
Tamboo bamboo was the name for the bands playing this kind of music.
1934
Tamboo bamboo gets banned too, again by the British government. This time, the reason behind it was more understandable.
Apart from using these instruments for music, rival gangs used to sharpen them and use them as weapons against each other.
1935
A year later, the pounding of bamboo tubes was replaced by the banging of steel. Led by Lord Humbugger, the Newtown Tamboo Bamboo band were the first ones to form a full ensemble of instruments made from metal containers.
They charged the streets of J'Ouvert with the instruments such as garbage bins and covers, biscuit and brake drums, paint cans, pots, bottles, and spoons. This was the turning point that changed the history of Caribbean music forever.
1936
Soon after, two pioneers of steel pan music in steel drum history, Victor "Totie" Wilson and Emmanuel "Fish Eye" Ollivierrie were the first ones to create different notes on the ping pong pan.
They made bumps on paint tins and tuned them to play different notes when banged.
However, there are still controversies on who the first people to do that were.
1941
The first person to bend the surface of a pan into its recognizable shape was Ellie Mannette. He is also credited as the first person to wrap the banging sticks with rubber, softening the playing attack.
This helped the players to experiment more with their sounds and allowed for more pitches to be created on the surface of the pan.
1946
Winston "Spree" Simon was the first one to spread the popularity of steel pan music to America. He was also the one to introduce the first "melody pan" at the Broadway Carnival. You could accommodate an entire melody on this type of pan.
In the same year, Ellie Mannette managed to build a steel drum instrument out of a 55-gallon drum.
1950
Like most of the men that made the history of steelpan in Trinidad & Tobago, Jules Neville began his career as a Tamboo Bamboo player. He was responsible for using the first bass pan by using a caustic soda drum.
Later, he came up with the idea of combining two caustic drums to expand the range of the bass. He's also credited with inventing the Cuatro pan, also known as a Guitar pan later.
1953
The '40s and the '50s were the most prolific years in steel drum history when it comes to inventing new instruments. Anthony Williams came up with a revolutionary invention called the spider web pan.
It was designed in a cycle of fifths and fourths, which is to this day the most popular layout for tenor pans.
1960
Bertie Marshall and Anthony Williams collaborated and introduced chromatic tuning to the steel drum world. This allowed steel drum players to play any kind of music that came to their mind, resulting in some incredible covers of popular songs.
1966
Most steel drum outdoor performances include a canopy to cover the instruments. We can thank Bertie Marshall for that as he recognized the negative effects that the sun had on steel pans and their sound.
He was also credited with inventing the double toner pan and improving the soprano pan too.
1971
Rudolph Charles is still one of the most fondly remembered persons in steel drum history. Besides being an aspired musician, he was also a great inventor, shaping the history of steelpan drums.
He is credited with making:
First Rocket pan (1971)
First 9 bass (1974)
First 12 bass (1975)
Quadrophonic pan (1978)
Triple second with foot bass (1981)
1992
Finally, after years of representing the sounds of Trinidad, the steelpan becomes the national instrument of Trinidad & Tobago.
The history of steelpan in Trinidad & Tobago proves that it is indigenous to the country and it's able to play the music of the country. That's why it's considered a national musical instrument.
2010
In the 2000s we noticed a huge technological boom and massive improvements in electronic music. Steelpan music was, surprisingly, not immune to this either.
Salmon Cupid invented the E-Pan, an electronic instrument that's able to replicate the sounds of a steelpan. Steelpan players now have way more room to improvise and create new and interesting sounds as they did throughout history.
Final thoughts
I hope you enjoyed this brief history of the steel drums. Which moment in their history stacked out the most with you? Let me know in the comments.